This is dedicated not only to my upcoming reunion but to all those upcoming reunions…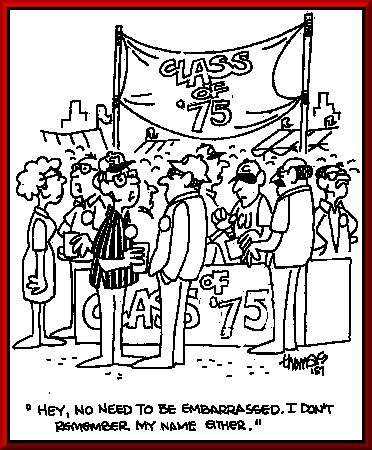 Every year about this time, especially in the United States and Canada the reunion banners are raised and millions of minds are refocused on what most think is a fairly significant point in their lives. Those four years, if you made it that long culminated in a certification of completion or diploma which simply means you survived and can now be considered a high school graduate.
Caps are flying, girls are hugging, parents are crying huge sighs of relief and the teachers are wondering …"what hath God Wrought" meaning the students graduated but the teachers can't explain what good it will do.
When the caps finely flutter back to the ground and the crowds thin, the realization of life starts to set in and the questions that smack them like a 2x4 on the back of the head asks "what now?" Especially now and not back then, not back 40 years which is where I'll be going in a few short days, but for those graduated, even for those celebrating their 10 years of scholastic separation, how many can say that life is filled with the roses of possibilities and the streets paved with gold, not many I suspect.
Who we were will not always determine who we should or have become, that philosophical dilemma is left to the nature of time and opportunity and can only be answered after the fact and an answer that I hope to be getting very soon from those that graduated with me back in 1974. (no cracks about being sooo old....)
I think it wrong to assume that all were successful financially. I think it insensitive to assume that all are still healthy and strong or even happy. The situations over a 40 year period will most likely vacillate and fluctuate often violently creating the myth that high school was a blessed time, a hopeful time and even a time of learning when the reality of most high school was perhaps nothing more than a race to survive without being discovered or for some not being noticed, both were traumatic for different reasons.
Who we really are will be revealed, but very seldom is that realization evident while still struggling through those formative four years. Who we really are is who we are now, not what we wished to be when we were young, not who we think we are as we try to impress those we haven't seen in 10, 20, 30 or even 40 years. We are what our decisions have made us and we are nothing more or nothing less than what our own perception of our own reality dictates.
We can try to dress up, cover up, disguise or try to completely conceal our true selves but we can never run away from the inner understanding of what we think about ourselves. Are we honest, are we kind, or are we nasty and mean or selfish? Are we servants to others or do we expect to be served? Do we use our wealth, what little we have even, for the good of others or use it selfishly, only you can answer those questions and only you need to know the answers for in those answers are the keys that open the realities of "to thine own self be true".
For me, I'm looking forward to this reunion. I'm excited to see old friends that I haven't seen in many years. I will be the first to admit that I've changed. I'm obviously older, a bit more wise, my kids may not agree, I think I have a little more knowledge at my disposal but at the same time I've made mistakes, some big ones and some just annoying ones that keep popping up and causing problems. I keep trying to tell myself that I'll grow out of it one day but at 58 I'm starting to lose hope that they will just "go away" forcing me to the realization that, like us all, I still have a long way to go.
There will be many I can't remember. There will be some whose names I recall but won't be able to place with the face that smiles back with remembrance only to see my smile of confusion as I try gallantly to cover my ignorance by saying "ooh ya, wow it's been a long time, how are you? Were we in Mr./Mrs. (place name of any teacher here) class together?"
I will stumble and laugh over unremembered stories that may or may not have included me but I will be polite in my stupidity and admit freely that I haven't really thought that much about most of you over those 30 years between the last reunion I attended, our 10 year, and the upcoming 40 year swaray. I really have been busy…..and that's not just an excuse. I've raised a family; worked, still working, put kids through college, still doing that too, stayed married, yes to the same wife and yes she is still the most beautiful woman I know, so no I haven't had the time to dwell on your lives.
But let me end this by honestly saying that I hope your lives have been as good as mine. Even with life's challenges I truly hope happiness is within all of you and you will forgive me if I don't remember your name or your face but I will try to fake it by glancing at the name tags, that I hope they provide, and with that glance be able to pronounce your name correctly.
Even if we were "Best Friends" I may have forgotten; my life hasn't been that easy nor I suspect was yours but with that tag plastered to my shirt … at least I'll know who I am…